Therese Bou-Akl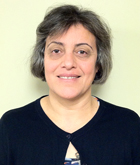 Adjunct Professor, Biomedical Engineering
818 W Hancock, Detroit, 48202
Biomedical Engineering

< View all profiles
Therese Bou-Akl
Biography
Dr. Bou-Akl received an MD degree in 1988 and a PhD in Biomedical Engineering in 2006. She completed her postdoctoral studies on cardiovascular Tissue Engineering at the children's Hospital of Michigan and on bone Tissue Engineering at Wayne State University. She conducted research in biomaterial characterization and cell- biomaterial interaction both in vitro and in vivo. Dr. Bou-Akl is involved in teaching graduate and undergraduate level biomedical engineering classes.
Education
Ph.D., Biomedical Engineering, Wayne State University (Detroit, MI), 2006
Residency: Pediatrics, Makassed General Hospital (Beirut, Lebanon), 1995
M.D., Medical University of Varna (Varna, Bulgaria), 1989
Courses Taught
BME 7010 Functional Anatomy
Research Interests
Biomaterials characterization and stem cells research
Publications
1. Yawen Li, Therese Bou-Akl. Material, Techniques, and Biomedical Applications. Chapter: Electrospinning in tissue engineering. ISBN 978-953-51-4945-3
2. Bou-Akl T et al. Collagen Nanofibers Induce Spontaneous Osteogenic Differentiation of Rat Bone Marrow Stromal Cells. J J Bone Stem Res. 2015, 1(1): 003.
3. Bou-Akl,T., Bangalmaier, R., Miller, R.,& VandeVord, P. (2013). Effect of crosslinking on the mechanical properties of mineralized and non mineralized collagen fibers. Journal of Biomedical Materials Research: Part A, 101(9), 2507-2514.
4. Albanna, M. Z., Bou-Akl, T., Blowytsky, O., Walters H. L. & Matthew. H. W. (2013). Chitosan fibers with improved biological and mechanical properties for tissue engineering applications. Journal of the Mechanical Behavior of Biomedical Materials, 20, 217-226.
5. Albanna, M. A.,Bou-Akl, T., Walters H. L. & Matthew. H. W. (2013). Improving the mechanical properties of chitosan-based heart valve scaffolds using chitosan fibers. Journal of the Mechanical Behavior of Biomedical Materials, 5(1):171-80.
6. Uygun B. E., Bou-Akl T., Albanna M. & Matthew H.W. Membrane thickness is an important variable in membrane scaffolds: Influence of chitosan membrane structure on the behavior of cells. Acta Biomaterialia, 6 (6), 2126-31.
7. Jesse P., Gordon, J. Sullivan, E., Bou-Akl, T., Matthew, H. W. & Palmer, A. F. (2007). Enhanced oxygen delivery to primary hepatocytes within a hollow fiber bioreactor facilitated via hemoglobin-based oxygen carriers. Artificial Cells, Blood Substitutes, and Biotechnology, 35(6), 585 – 606.
Professional Affiliations
Society for Biomaterials (SFB) 
Biomedical engineering Society (BMES)
Lebanese Pediatric Society