Eranda Nikolla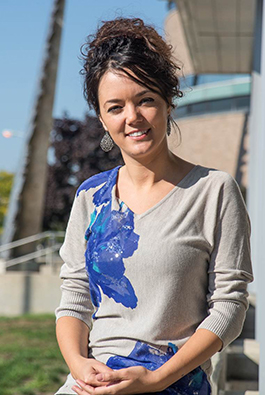 Associate Professor, Chemical Engineering and Materials Science
< View all profiles
Eranda Nikolla
Education
B.S. Engineering Chemistry, Oakland University (2003)
M.S. Chemical Engineering, University of Michigan (2004)
Ph.D. Chemical Engineering, University of Michigan (2009)
Postdoctoral Scholar in Chemical Engineering, California Institute of Technology (2009-2011)
Research Interests
Electrochemical Systems (fuel cells, electrolyzers, batteries, etc), photochemical systems, CO2 sequestration, design of multifunctional, selective catalysts for biomass conversion.
Research Group
The Nikolla Research Group focuses on studying various issues related to electrochemical systems (i.e. fuel cells, electrolyzers, batteries) and cooperative/selective catalysis (i.e. design of multifunctional, selective heterogeneous catalysts) for biomass conversion. We aim to address these issues by combining state-of-the-art synthesis techniques, a number of microscopy and spectroscopy techniques, and quantum density functional theory (DFT) chemical calculations.
Research Projects
Electrolysis using solid oxide electrolyzers.
Chemical and Electrochemical routes for conversion of biomass.
Selective photocatalysis: Harvesting sun's energy to activate chemical bonds.
Development of robust cathode materials for Li-air batteries.
Open Positions
Positions are available for undergraduate, graduate and postdoctoral researchers.  Please contact Prof. Nikolla directly at erandan@wayne.edu.
If you would like to learn more about Prof. Nikolla's research, please look at her group website at http://nikollalab.eng.wayne.edu