Mai Lam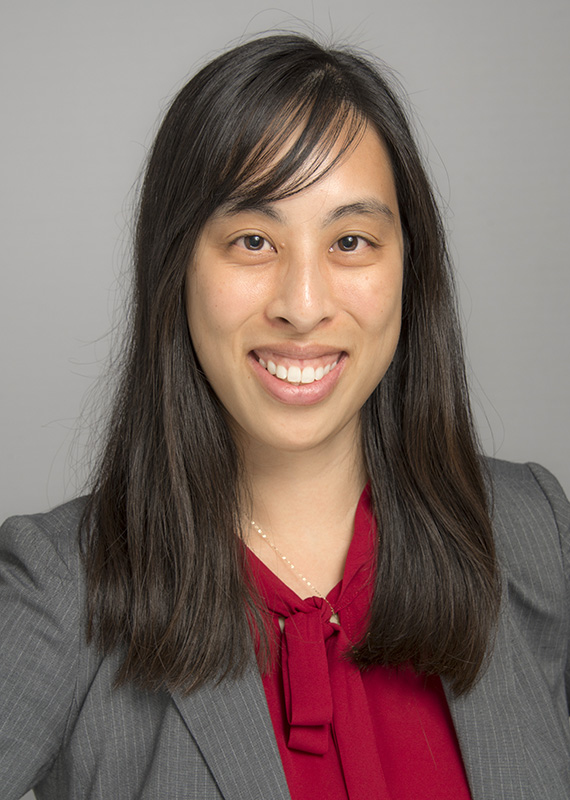 Assistant Professor, Biomedical Engineering
< View all profiles
Mai Lam
Biography
Assistant Professor, Cardiovascular Research Institute, School of Medicine, Wayne State University, Detroit, MI. 2014-Present
Assistant Professor, Department of Biomedical Engineering, Wayne State University, Detroit, MI. 2013-Present
Postdoctoral Scholar, Cardiovascular Institute and the Stem Cell Institute for Regenerative Medicine, Stanford University, Stanford, CA. 2008-2013
Education
B.S.E. with Honors, Materials Science and Engineering, University of Michigan, Ann Arbor, MI
M.S.E., Biomedical Engineering, University of Michigan, Ann Arbor, MI
Ph.D., Biomedical Engineering, University of Michigan, Ann Arbor, MI
Research Interests
Tissue Engineering and Regenerative Medicine
Biomaterials Applications
Cardiac and Musculoskeletal Systems
Stem Cell Differentiation and Transplantation
Cellular and Tissue Biomechanics
Extracellular Matrix Interactions
Cell adhesion
Translational Studies 
Publications
1. Patel B, Xu Z, Pinnock CB, Kabbani LS, Lam MT. Self-assembled Collagen-Fibrin Hydrogel Reinforces Tissue Engineered Adventitia Vessels Seeded with Human Fibroblasts. Sci Rep. 2018 Feb 19;8(1):3294.
2. Lam MT. Mesenchymal Stem Cell Therapies for Skin Repair and Regeneration. Journal of Dermatology & Cosmetology. J Dermat Cosmetol. 2017, 1(3): 00014.
3. Wang L, Meier E, Tian S, Lei I, Liu L, Xian S, Lam MT, Wang Z. Transplantation of Isl1+ cardiac progenitor cells in small intestinal submucosa improves infarcted heart function. Stem Cell Res Ther. 2017 Oct 16;8(1):230.
4. Pinnock CB, Xu Z, Lam MT. Scaling of Engineered Vascular Grafts using 3D Printed Guides and the Ring Stacking Method. J Vis Exp. (Invited). 2017 Mar 27;(121).
5. Pinnock CB, Meier EM, Joshi N, Wu B, Lam MT. Customizable Engineered Blood Vessels Using 3D Printed Inserts. Methods (Special issue-Invitation only). Guest editors: Anthony Atala & Hooman Sadri-Ardekani. 2016;15(99):20-7.
6. Xu Z and Lam MT, "Alginate Application for Heart and Cardiovascular Diseases," book chapter 14, in Springer Series in Biomaterials Science and Engineering. Volume: Alginates and their Biomedical Applications. Eds: BHA Rehm, F Moradali. Springer. 2016.
7. Meier EM and Lam MT. Role of mechanical stimulation in stem cell differentiation. JSM Biotechnol Bioeng. 2016, 3(3): 1060.
8. Meier EM, Wu B, Siddiqui A, Tepper DG, Longaker MT, Lam MT. Mechanical Stimulation Increases RNA-level Expression of Knee Meniscus Genes in Adipose-derived Stromal Cells. Plast Reconstr Surg GO. 2016 16;4(9):e864.
9. Zakhem E, Murphy SV, Davis ML, Raghavan S, Lam MT. Introductory Editorial: Image and Video Acquisition and Processing for Clinical Applications. Biomed Eng Comput Biol. 2016:Suppl. 1 35-38.
10. Lam MT, Nauta AC, Meyer NP, Wu JC, Longaker MT. Effective delivery of stem cells using an extracellular matrix patch results in increased cell survival and proliferation and reduced scarring in skin wound healing. Tissue Eng Part A. 2013;19(5-6):1-10.
11. Lam MT, Wu JC. Biomaterials Applications in Cardiovascular Tissue Repair and Regeneration. Expert Review of Cardiovascular Therapy. 2012;10(8):1039-49.
12. Lam MT, Longaker MT. Comparison of several attachment methods for human iPS, embryonic and adipose-derived stem cells for tissue engineering. J Tissue Eng Regen Med. 2012;6 Suppl 3:s80-6.
13. Hammerick KE, Huang Z, Sun N, Lam MT, Prinz FB, Wu JC, Commons GW, Longaker MT. Elastic properties of induced pluripotent stem cells. Tissue Eng Part A. 2011;17(3-4):495-502.
14. Raghavan S, Lam MT, Foster LL, Gilmont RR, Somara S, Takayama S, Bitar KN. Bioengineered three-dimensional physiological model of colonic longitudinal smooth muscle in vitro. Tissue Eng Part C Methods. 2010;16(5):999-1009.
15. Lam MT, Huang YC, Birla RK, Takayama S. Microfeature guided skeletal muscle tissue engineering for highly organized 3-dimensional free-standing constructs. Biomaterials. 2009;30(6):1150-5.
16. Lam MT, Clem WC, Takayama S. Reversible on-demand cell alignment using reconfigurable microtopography. Biomaterials. 2008;29(11):1705-12.
17. Lam MT, Sim S, Zhu X, Takayama S. The effect of continuous wavy micropatterns on silicone substrates on the alignment of skeletal muscle myoblasts and myotubes. Biomaterials. 2006;27(24):4340-7.
18. Lam MT, "Non-implantable and diagnostic bio-nanosystems," section 3, book chapter 10 in NNIN Nanotechnology Open Textbook, Eds. Maharbiz MM, Najafi K, National Nanotechnology Infrastructure Network, 2006.
Awards and Honors
Excellence in Teaching Award, College of Engineering, Wayne State University, 2018
Outstanding Faculty Award, College of Engineering, Wayne State University, 2015
Multi-Disciplinary Training Program in Cardiovascular Imaging at Stanford (CVIS) Postdoctoral Fellowship (T32), 2011
Summer Institute for Entrepreneurship Certificate, Graduate School of Business (GSB), Stanford University, 2011
Stanford GSB Summer Institute for Entrepreneurship Fellow Award for Exemplary Performance, 2011
Henzl-Gabor Young Women in Science Travel Fellowship, 2010
Kathleen McCormick Committee to Support Women in Medical Careers Postdoctoral Travel Grant, 2010
Ethelmae Haldan Grant for Innovative Science in Osteoarthritis, Arthritis National Research Foundation, 2009-2010
National Institute on Aging (NIA) Multidisciplinary Training in Aging Research Fellow, 2004-2006
Engineering Academic Scholar, College of Engineering, University of Michigan, 2006
Best Overall Poster Award, Annual Society of Women Engineers (SWE) Poster Competition, 2005
University Honors, 2001
Coursework
BME 5220 Cellular and Tissue Biomechanics
BME 5380 Biocompatibility
BME 8070 Seminar
Laboratory Web Site