A refined legacy: Chemical engineering alumnus pays success forward to today's students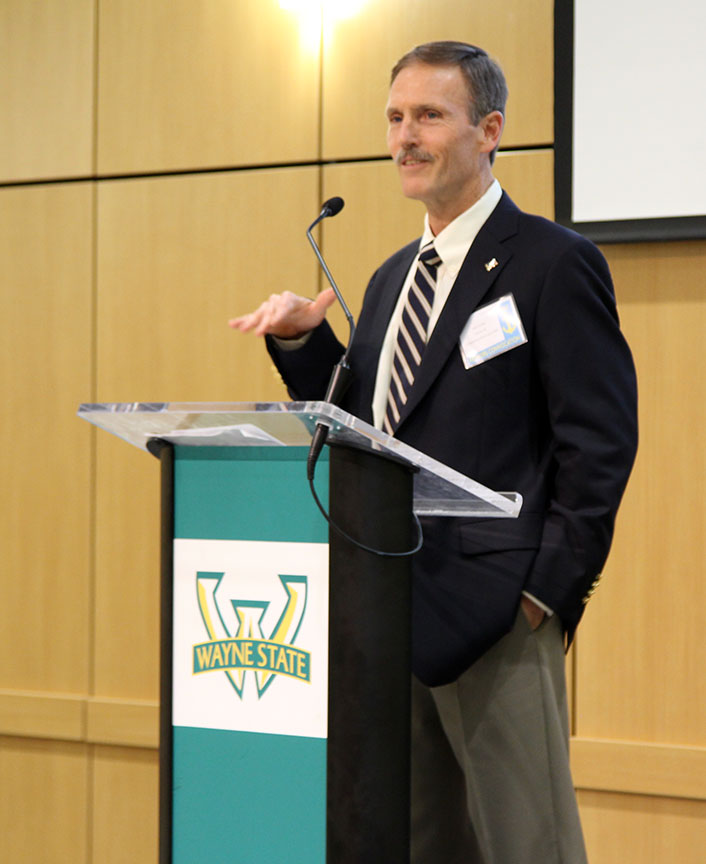 It's appropriate that Hank Kuchta was in the Wayne State Student Center last spring addressing a room full of faculty and students at the College of Engineering Honors Convocation. It was in that building - albeit an older version of it - that a chance encounter in the late 1970s with an old friend changed his life.
Kuchta was a biology major considering medical school, but it just didn't feel right and he was concerned about his limited job prospects. His friend was an engineering major, and when he told Kuchta about his numerous lucrative job offers, Kuchta was inspired to change directions.
Ralph Kummler, then the dean of the College of Engineering, met with Kuchta to discuss his options. Kummler suggested that Kuchta consider graduate school for engineering, but Kuchta wanted to get in while still on an undergraduate scholarship, and vowed to finish in less than two years.
"He thought I was crazy," said Kuchta, who made good on his vow and earned his bachelor's in chemical engineering in 1980.
As someone who previously spent most of his time in rote sciences, Kuchta recalls his system of learning being shocked when he came into engineering. He quickly learned that engineers are the world's problem solvers, and it affirmed his belief that this was the right profession for him.
He also found that he enjoyed the classes, particularly those taught by Professor Harold Donnelly, who emphasized the fundamentals of being on time, doing homework and asking thoughtful questions.
"He was like a grandfather to us," said Kuchta. "The guy was unbelievable."
Kuchta joined Theta Tau and met Greg Mullins, who was the president and preparing to graduate and take a job at Marathon. Mullins not only suggested to Kuchta that he take over as president, but also encouraged him to consider the refining business. Kuchta took a co-op at Marathon, and his career was off and running.
He joined Exxon after graduation, where he worked for 12 years in various roles, including several overseas assignments. His proactive, hands-on approach and desire to break from the operational status quo set him apart.
"I loved being out in the plant, and I learned the whole operation from the bottom up," said Kuchta. "As an engineer, you want to improve what's in front of you and get more out of it."
His refinery in New Jersey was eventually sold to the Tosco Corporation, and in 1993 he was offered a new job. By "picking up the crumbs" and helping Tosco acquire assets overlooked by the bigger conglomerates, Kuchta helped grow Tosco into the largest independent refining company in the country.
Kuchta went on to Premcor Inc., ascending to president and chief operating officer before retiring in 2005, when the company was acquired by Valero. However, it wouldn't be long before he accepted a new challenge. He and a friend founded Northern Tier Energy and acquired a refinery in 2010 from Marathon in St. Paul Park, Minnesota, as well as the SuperAmerica gas station and convenience store chain.
"Two guys with a desk and a telephone turned this into a $3.5 billion company," said Kuchta. "Our investors said it was one of the best investments they ever made. Their return on capital was monstrous."
Among the talent that joined Kuchta on this venture was Mullins, who had parlayed his modest beginnings at Marathon into a 30-year career. Kuchta was more than happy to rekindle a connection with a Wayne State alumnus.
"I have a lot of pride in the university," said Kuchta, who was inducted into the College of Engineering Hall of Fame in 2006. "There's something different about the education here. I think the people here are grounded differently."
Kuchta and his wife established the Hank and Joy Kuchta Endowed Support Fund for Chemical Engineering to benefit student activities such as Chem-E-Car and AIChE. They also founded an endowed scholarship fund to recruit students, recognize scholastic achievement, encourage continued progress and provide assistance to students in financing their graduate education in chemical engineering and materials science.
"This engineering college is a jewel," said Kuchta. "I love to tell people I went to Wayne State."
This article originally ran in the Fall 2017 edition of Exemplar.
↑