Mobility for All competition moves into final phase as remaining teams calibrate solutions to transportation and accessibility problems
The third phase of the year-long Mobility for All competition at Wayne State University is underway, as the five remaining teams work to deliver proposals for scaling their proposed solutions for mobility challenges in metro Detroit, such as food access, transportation and accessibility for people with disabilities.
Teams are primarily comprised of students, faculty and researchers from schools and colleges across Wayne State University. Each team received $5,000 prizes from the Wayne Mobility Initiative (WMI), an interdisciplinary group formed in February 2020 to promote collaboration and innovation across Wayne State University on mobility, including research, education and community engagement.
"After two rounds, the steering committee selected five teams who are attacking real-world problems with very exciting and innovative mobility solutions," said Weisong Shi, committee chair and professor of computer science in the College of Engineering. "Each team has identified community partners to work with on their final project. We look forward to their final presentation to the whole WMI community in October."
Three students in Wayne State's Transformative Research in Urban Sustainability Training (T-RUST) program - Zahra Seblini (alternative energy technology engineering), Gelareh Raoufi (learning design and technology) and Noribeth Mariscal (environmental and sustainability engineering) - are developing a comprehensive study in Detroit and surrounding cities to determine whether improving bus stop infrastructure in the DDOT/SMART bus system will increase use of public transportation.
Citing a SEMCOG 2019 On-Board Transit Survey that found more than 50% riders did not have access to a car and 77% come from households with annual income of less than $50,000, the team recognizes a dependency on public transit. They will examine to what extent issues such as bus route overlap, placement and condition of bus stops, and gaps in service contribute to a poor experience or disproportionate accessibility.
"The proposed study has the potential to be the voice of the public transit riding community," said Raoufi. "This survey would produce a picture of the most used bus stops and the needs of the community."
Two projects aim to improve quality of life for the blind and visually impaired (BVI) population. RecognEyes is a smartphone app that can help users - including the nearly 58,000 BVI individuals living in Wayne County - better navigate their surroundings by using an augmented reality model that integrates object detection and binaural sound. While the user scans the room using their camera, RecognEyes detects objects of interest such as doors and uses binaural sound localization and distance callouts to guide users to that object.
"We believe that RecognEyes has the potential to make a significant impact on BVI users' quality of life, not only in Detroit but for everyone who has access to a smartphone," said project leader Jessica Tan, a medical student at Wayne State. "After hearing firsthand accounts of the stigma experienced by BVI community members and their dependence on others, we realized the need for a navigational aid like RecognEyes, where even a small sense of gained independence can make a difference."
A trio of computer science graduate students - Ren Zhong, Zhaofeng Tian and William He - from the CAR Lab are developing Guardian Angel, which aims to eliminate the first mile/last mile problem for BVI individuals and improve accessibility of autonomous vehicles. In collaboration with Wayne State alumnus John Petrous, developer of Tappy Guide and other tech solutions for the BVI community, and Ray Smith from IXR Mobility, the team is working on a mobile app combined with camera-equipped smart glasses that can provide assistance via safe routes, intelligent voice information and accurate localization of vehicles.
"We believe autonomous vehicles will bring everyone amazing transportation service in a safe, efficient way," said Zhong. "But to achieve this beautiful future, there is still a lot of work to do. Our project is only a small step to improve accessibility for visually disabled people."
A project led by Wayne State alumna Kyra Villalon and Troy High School student Ivy Shi features a voice-controlled, multi-extensional attachment accessory called ARMore to provide dexterity assistance for wheelchair users, increasing their capability to perform daily tasks such as eating, retrieving fallen items, and accessing money or identification in public settings. Input from the target population as well as health care specialists are helping the team fine tune its prototype.
An industrial design team from the Department of Art and Art History, led by Senior Lecturer Siobhan Gregory, rekindled a past collaboration with Deeply Rooted Produce (DRP), a mobile grocery service that works with local urban farmers to reach underserved communities. In 2019, students created conceptual designs for a food truck, a mobile market delivery truck, a mobile educational display, and a sustainably designed welcome center and community kitchen.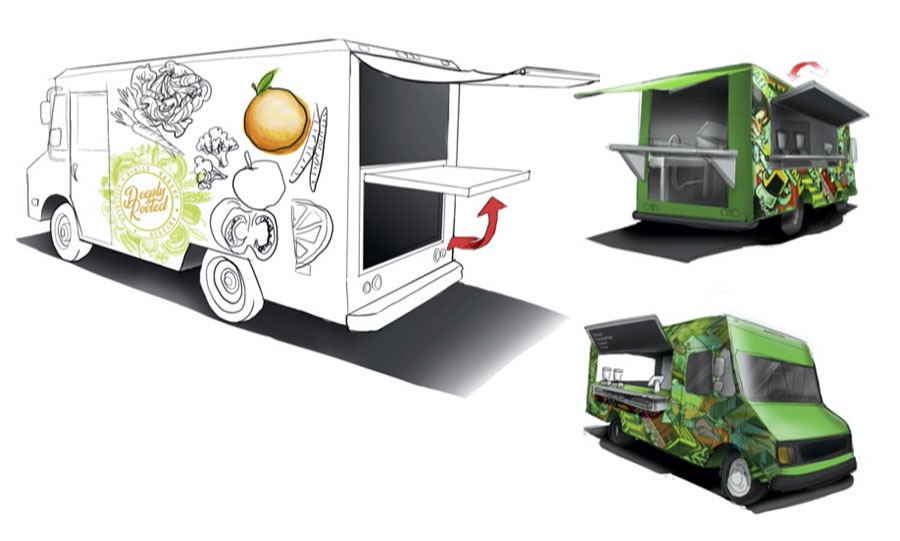 The work today is centered on strengthening the business plan of DRP owner Dazmonique Carr by developing a digital app, creating printed materials and other low-tech tools, and gather data from interviews and focus groups to understand consumer preferences and shopping behaviors. The goal is to expand DRP's user base and scope of service.
Visit mobilityforall.world to learn more about the competition and its five finalists.