New displays in College of Engineering labs draw connections between engineering and art
Creativity and design are common threads between engineering and art. While engineers apply scientific principles to develop real-world solutions, these solutions often benefit greatly from the right blend of mechanics and aesthetics.
Abhilash Pandya, associate professor of electrical and computer engineering at Wayne State University, wanted to address an imbalance of these two aspects within the College of Engineering building. To elevate the building's visual appeal closer to the level of research and innovation it houses, he led an effort to line the corridor of his department's laboratories with new, framed research posters and commissioned a unique art installation with the help of Wayne State student Samantha Weslin.
The motive went beyond sprucing up the interior of the 70-year-old facility. Pandya wanted to make a good first impression with visitors, communicate to students and faculty about the work performed in the labs, and demonstrate another intersection between engineering and art.
"When you walk into a building, hallway or lab, you should feel creative," said Pandya. "Creativity can be instilled in everything you do, from teaching a class to doing research or running a meeting."
Weslin, a junior graphic design major who attended Grosse Ile High School with Pandya's daughters Maya and Keena, worked as a student assistant in the electrical and computer engineering department. Pandya approached her with the idea to add art pieces in the building and invited Weslin to his lab in order to draw some inspiration.
"I went in looking for a model and saw a skull with a robot arm," said Weslin. "Dr. Pandya said it was kind of a mascot for his lab."
After taking some pictures and sketching a few designs, she created a digital image of her artwork and used it as the template for what she painted on the wall outside of Pandya's lab over a five-day span in July. The skull and arm, colored in various shades of green, gold and blue, is representative of the image-guided and robotic surgery projects in Pandya's research and, "catches the spirit of man and machine working together," said Weslin.
Later in the summer, Weslin began another project across the hall for Assistant Professor Mohammad Alhawari. For this assignment, she enlisted the help of her old friend.
"Maya was away doing a circuit design internship at Northrop Grumman, but she and I had a Skype conversation so she could walk me through the steps of creating a circuit board," said Weslin. "The biggest challenge would be painting straight lines on the bricks of the walls."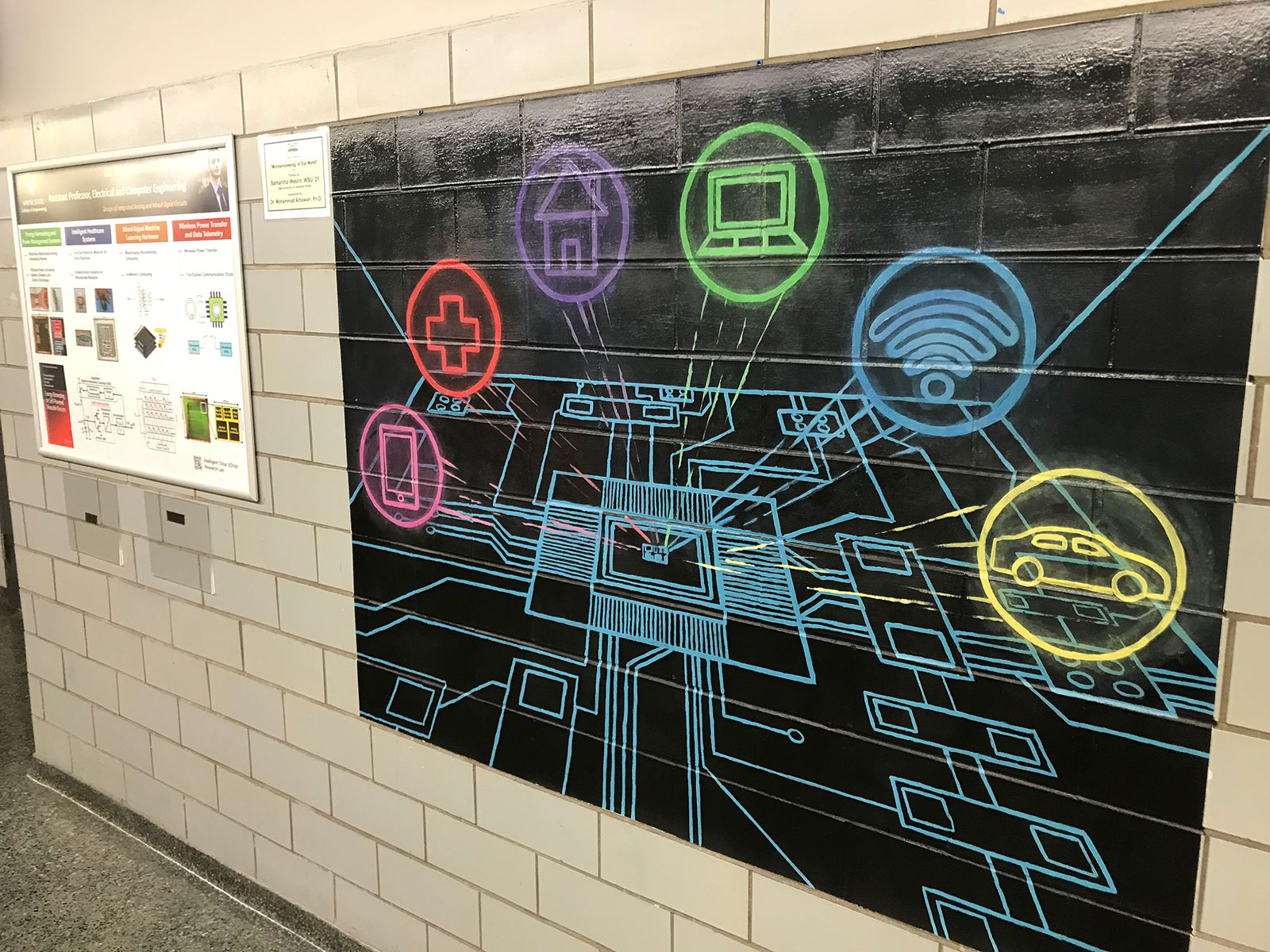 Weslin, who has long been interested in STEM and was involved in robotics in high school, sees a strong connection between art and engineering, noting that several engineering students she knows take on art as a hobby.
"I think that's important because it helps balance the mind," said Weslin.
Pandya hopes that more art projects will follow in electrical and computer engineering as well as other departments, and perhaps throughout other schools and colleges. "This is just the start," said Pandya. "We plan on involving other art students, and teaming them with engineering students to instill a creative atmosphere."
To see these art installations, visit the third floor of the College of Engineering laboratories.