Wayne State engineers using 3D printers to produce face shields for PPE-strapped health care workers
Doctors, nurses and volunteers treating COVID-19 patients across the U.S. face a shortage of personal protective equipment (PPE). A group of students in the Wayne State University College of Engineering are working diligently to replenish some of the local PPE supply in metro Detroit by using the college's 3D printing capabilities to fabricate face shields.
First-year engineering student Nicholas Kerner had firsthand knowledge of the adversity facing front-line health care workers - his mother is a nurse at McLaren Oakland Hospital in Pontiac. He recently began using his home 3D printer to create face shields, doing his due diligence to source optimal materials, design and cost. Realizing he may have additional resources at his disposal, Kerner contacted James Lenn, a 30-year industry veteran and engineering lecturer who leads the college's first-year design course, to see if he could scale up his project.
"I didn't realize that many other people in the college were also figuring this out," said Kerner, who became well versed in 3D printing at the Center for Science and Industry's half-day engineering program while attending Utica Eisenhower High School.
Kerner connected with mechanical engineering graduate student Pawan Vedanti. In collaboration with faculty and staff, they pulled together supplies and equipment and optimized the procedures between the First Year Engineering Design Lab and the Mechanical Engineering 3D Printing Lab. They now have 20 printers in operation around the clock and produce over 100 units per day at a cost of less than $1.40 per unit.
"Nicholas and Pawan are a perfect example of extreme ownership. Whatever roadblocks have come up, they've found a way to adapt and move the project forward," said Jeff Potoff, associate dean for academic and student affairs. Potoff has been tasked with coordinating various logistical aspects of the project, along with Lenn, Associate Professor Amar Basu and Director of Connect Services Andy Murrell.
---
---
The shield is a four-part design. Transparency paper is cut to size and attached to a plastic headpiece, which is 3D printed along with a bottom support bracket. Elastic material supplied by the College of Fine, Performing and Communication Arts connects the two sides of the headpiece to go around the back of a medical worker's head.
Kerner and Vedanti have revised the design a few times to make the operation more efficient. Kerner has also had a direct line of communication with hospital staff to ensure the face shields meet their needs.
"That's what we always talk about as engineers - getting feedback from the end user and fixing the design," said Kerner.
Engineering graduate students Carlos Martinez, Husam Alrehaili and Ajay Bhagavatam, as well as medical student Rafael Ramos, have joined the project, ensuring that at least one person is in each lab all hours of the day to take prints off and start new ones.
"We have students coming to us saying, 'We want to help. What can we do?'" said Potoff. "It's an amazing community effort."
---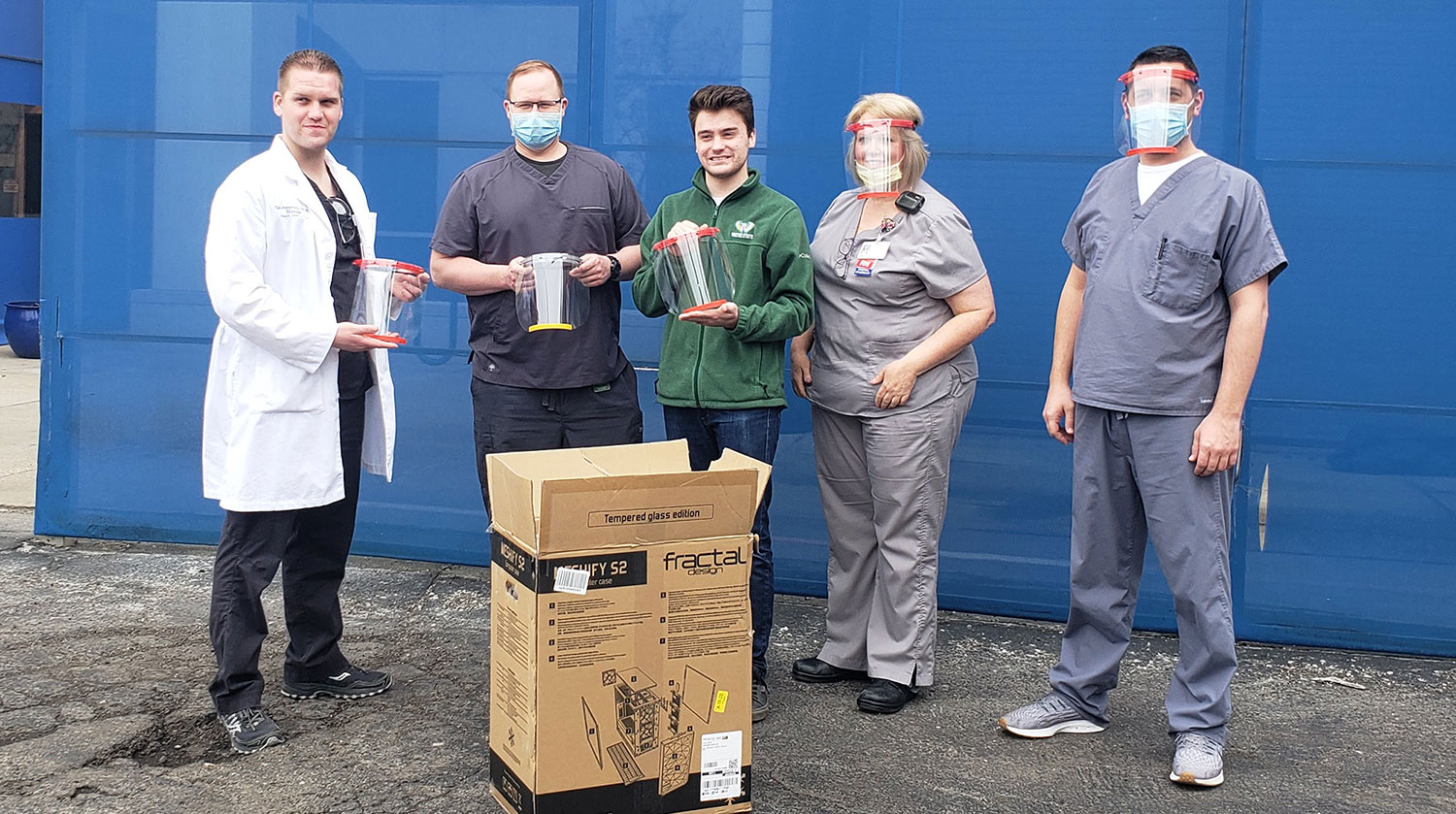 ---
According to Vedanti, being able to assist the medical community during the COVID-19 crisis is "the opportunity of a lifetime." He and the team have a goal to generate at least 700 units, dividing them between McLaren and other area hospitals, as well as the Wayne State crisis team led by Provost Keith Whitfield. However, according to Kerner, the operation's timeline is indefinite.
"The project will run as long as hospitals need PPE," he said.
In addition to face shields, the team is planning to produce "ear savers" to reduce irritation generated by straps from masks and nasal swabs for COVID-19 test kits.