Wayne State MTRAC-funded project uses computer-assisted technology to mitigate surgical bleeding
Intraoperative hemorrhage - colloquially known as "bleeding out" - is a leading cause of death in operating rooms around the world. It is estimated that at least 75% of this surgical complication is due to human or technical factors in anesthesia, blood transfusions or the surgical procedure itself. Other causes may include structural anomalies, drug-related issues or other health disorders.
The Computer-Assisted Robot-Enhanced Systems (CARES) Laboratory at Wayne State University - directed by Abhilash Pandya, associate professor of electrical and computer engineering - develops surgical technologies that combine image guidance, augmented and virtual reality, and robotics. Pandya and his colleagues - Professor Hao Ying, Assistant Research Professor Luke Reisner and Ph.D. student Mostafa Rahbar - are creating a platform that provides surgeons the ability to see and predict potential intraoperative bleeding.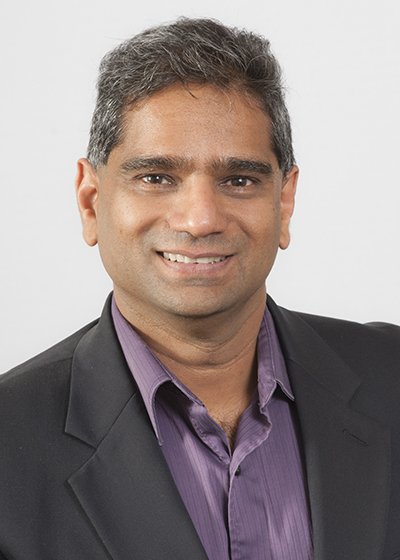 The project received funding from the Michigan Translational Research and Commercialization (MTRAC) Innovation Hub for Advanced Computing as well as the National Science Foundation Small Business Technology Transfer (NSF/STTR) program. RediMinds Inc., a Southfield, Michigan-based software company led by CEO and Wayne State alumnus Madhu Reddiboina, is the group's partner for STTR Phase I and will work with the Wayne State engineers on research, patent application, prototype creation and testing.
The team is also collaborating with Dr. David Edelman, a bariatric surgeon at Detroit Medical Center and an alumnus of the Wayne State School of Medicine, and Dr. Mahendra Bhandari, director of robotic surgery research and education at Henry Ford Hospital's Vattikuti Urology Institute, to advance and test this technology.
"The project will result in a prototype that assists a surgeon in detecting, visualizing and characterizing arterial bleeding in real time during surgery," said Pandya. "The product will leverage techniques in advanced computer vision and machine learning, and will impact both laparoscopic and robotic surgery."
Even a small bleed can obstruct the surgeon's view, making it difficult to find and control the source of the bleeding. Pandya added that the problem is even harder to manage in minimally invasive surgery conducted using a remote camera view. This new system aims to provide a surgeon with key information about the bleed, such as the source location and the severity.
Pandya believes this project has the potential to revolutionize surgical processes as well as hospital management. Patients can anticipate improved outcomes, surgeons as well as operating room and recovery staff can reduce their workloads, and hospitals and insurance companies would see significantly reduced costs.
"These transformative aspects could improve surgical results for laparoscopic or robotic surgeries across numerous surgical specialties and open avenues of future surgical AI research and product development," said Pandya.
Photo credit: https://commons.wikimedia.org/wiki/File:Robot_assisted_surgery.jpg