Carolyn Harris, Ph.D.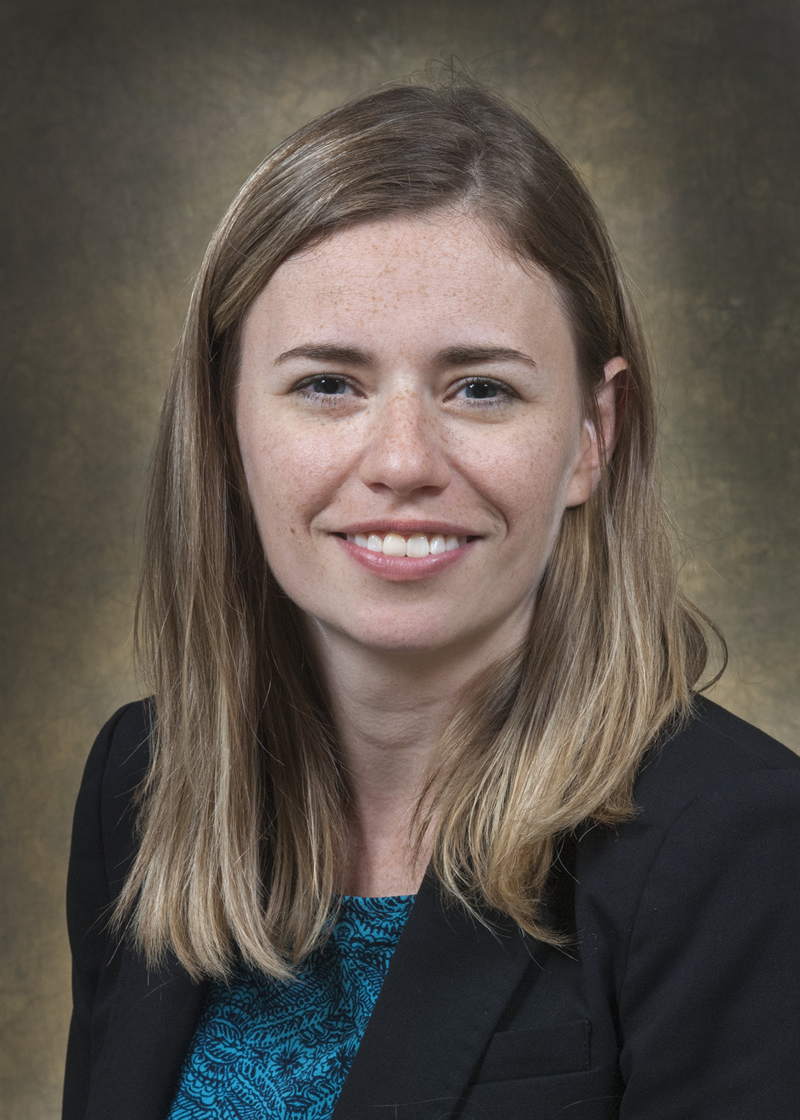 Assistant Professor, Chemical Engineering and Materials Science
6135 Woodward Ave, Room 1413 Detroit, MI 48202
Integrative Biosciences Center

caharris@wayne.edu
313-577-9847

< View all profiles
Carolyn Harris, Ph.D.
Education
B.S.E., Biomedical Engineering, Purdue University (2006)
Ph.D. Biomedical Engineering, University of Utah (2011)
Postdoctoral, Seattle Children's Research Institute (2014)
Courses Taught
BE 1200, Basic Engineering I: Design in Engineering
CHE 3800, Separation Processes
CHE 4990, Mass Transport
Research Group
The Harris laboratory is broadly interested in understanding neuroinflammation and cell-biomaterial interactions in neurological conditions. Using confocal microscopy, translational research, bench top 3D culture models, and high-throughput microfluidic models, our team works to understand the impact of the local bioenvironment on failure of chronic indwelling devices implanted in the brain. Specifically, we focus on the shunt device, and implement tools to study mechanisms of shunt failure in the treatment of hydrocephalus.  The influence of brain injury, fluid dynamics, and blood-cerebrospinal fluid-barrier integrity is also captured within our research umbrella.  
In addition to her academic activities, Dr. Harris is deeply committed to improving public education and cultivating communication and a sincere connection with patients. These interests are fostered from a multilevel perspective with specific attention to teaching undergraduate, graduate, and medical students, residents and fellows, and by reaching out to the community to interact with patients and their families. Questions are always welcomed. 

Open Positions
Positions are available for undergraduate, graduate, and postdoctoral researchers. Please contact Dr. Harris directly at caharris@wayne.edu. 
Publications
Harris C, Pearson K, Trett K, Zhu S, Chong P, Taskin N, Shain W: Fabrication of three-dimensional hydrogel scaffolds for modeling cortical tissue obstruction in hydrocephalus Experimental Neurology (in preparation)
Harris C, Pearson K, Trett K, Zhu S, Chong P, Taskin N, Shain W : Retrograde Flushing Induced Shear Stress Reduces Astrocyte Attachment and Growth on Ventricular Catheters. Biomaterials (in preparation)
Harris C, Trett K, Chong P, Zhu S, Taskin N, Pearson K, Shain W : Electrophoresis as a novel method for increased antibody penetration through thick tissue samples. Nature Methods (in preparation)
Megjhani M, Mukherjee A, Rey N, Merouane A, Lu Y, Trett K, Chong P, Harris C, Shain W, Roysam B. IEEE Biomaterials (submitted April 2014)
Harris C, McAllister JP II: What We Should Know About the Cellular and Tissue Response Causing Catheter Obstruction in the Treatment of Hydrocephalus (Review). Neurosurgery. 70(6): 1589-601, discussion 1601-2
Eskandari R, Harris CA, McAllister JP II: Reactive astrocytosis in feline neonatal hydrocephalus: acute, chronic, and shunt-induced changes. Child's Nervous System. 27(12): 2067-76, 2011
Harris C, Resau J, Hudson E, West R, Moon C, Black AD, McAllister JP II: Reduction of Protein Adsorption and Macrophage and Astrocyte Adhesion on Ventricular Catheters by Polyethylene Glycol and N-Aceytl-L-Cysteine. Journal of Biomedical Materials Research Part A. 98(3):425-33, 2011
Harris C, McAllister JP II: Does drainage hole size influence adhesion on ventricular catheters? Child's Nervous System. 27(8):1221-32, 2011
Harris C, Resau J, Hudson E, West R, Moon C, Black AD, McAllister JP II: Effects of surface wettability, flow, and protein concentration on macrophage and astrocyte adhesion in an in vitro model of central nervous system catheter obstruction. Journal of Biomedical Materials Research Part A. 97(4): 443-440, 2011
Harris C, Resau J, Hudson E, West R, Moon C, McAllister JP II: Mechanical contributions to astrocyte adhesion using a novel in vitro model of catheter obstruction. Experimental Neurology. 222(2):204-210, 2010
Black C, Resau J, West R, Grever W, McAllister JP II: Are We Implanting Shunt Catheters that Facilitate Shunt Failure? Fluids and Barriers of the CNS. 6 (Suppl 1):S42. (published abstract)
Wang A, Liang X, McAllister JP, Li J, Black C, Finlayson P, Cao T, Tang C, Salley S, Auner G, Ng KYS. 2007. Stability of and inflammatory response to silicon coated with a fluoroalkyl self-assembled monolayer in the central nervous system. Journal of Biomedical Materials Research Part A 81(2): 363-372, 2007
Wang A, McAllister JP II, Finlayson PG, Li J, Brabant KE, Tang H, Black CE, Cao T, Liang X, Salley SO, Auner GW, Ng KYS: Short- and long-term neural biocompatibility of heparin coated sapphire implants. Materials Science & Engineering C-Biomimetic and Supramolecular Systems. 27(2):237-243, 2007
Wang A, Cao T, Tang H, Liang X, Black C, Salley SO, McAllister JP II, Auner GW, Ng KYS. 2006. Immobilization of polysaccharides on a fluorinated silicon surface. Colloids and Surfaces B Biointerfaces 47(1): 57-63, 2006