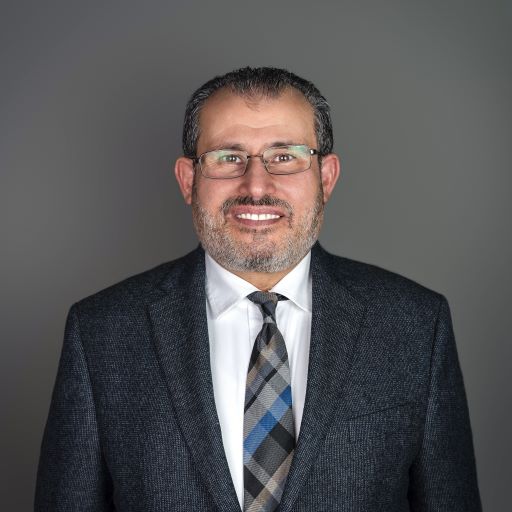 Dr. Raef Aidibi
Adjunct Professor, College of Engineering, Computer Science
Adjunct Professor, College of Engineering, Computer Science
Biography
Dr. Aidibi is a Technical Professional in the area of Real-Time Embedded Control Systems Design & Development; Optimal Control of Hybrid Dynamic Systems; Signal Transformation & Processing techniques applied to Intelligent Pattern Recognition & Control; Supervised & Unsupervised Classification and Learning; with Extensive Emphasis on Modeling, Implementation, Simulation, Architecture, Construction, Networking, Debugging, Process, Quality & Standards.
A Principal Software Engineer with extensive experience in developing Real-Time Embedded Control Firmware and related algorithms combining over 20 years of industry experience (production intent) reliable projects and academic advancements (research intent) ranging from proof of concept until production.
Dr. Aidibi's recent research has been in the area of Learning & Control Software with emphasis on utilizing Hybrid Dynamic Systems, Dynamic Programming and Approximate Dynamic Programming algorithms applications to Intelligent Transportation Systems (ITS). In this research, hybrid dynamic systems with shared interactions and performance between the hybrid states are considered as a multistage decision problem
Education
Ph.D. Systems Engineering (ECE), Oakland University, Rochester Hills, MI
MS Electrical & Computer Engineering, Oakland University, Rochester Hills, MI
MS Computer Science (Embedded Systems), Oakland University, Rochester Hills, MI
BS Electrical Engineering, Lawrence Technological University, Southfield, MI
Research Interests
Machine Learning and Computational Intelligence (Pattern Recognition & Fuzzy Logic), Deep Learning, and Image Processing
Embedded Systems, Real Time Operating Systems, Microcontrollers & Computer Programming utilizing C, C++, JAVA, OOP, Verliog & VHDL, ASM … with applications applied in various domains.
Computer Architecture, Computer Networks, Operating Systems,
Software Life Cycle, Implementation & Execution, Validation, Release processes & standards
Industry Experience:
Lear Corporation, Southfield, MI: Principal Engineer (Technical Specialist): 2009-Present:

Electrical Power Management Systems (Electrification): Electric Vehicle Software controlled DC/AC Chargers/Inverters, EVSE Vehicle to Charging Station Communication Protocols covering a wide range of specifications from GreenPHY PLC, GBT-27930 (China), DIN-70121 & ISO-15118 (Europe & USA), SAE-J1772, CHADEMO Standards for Smart Charge Communication, cloud and client applications pertaining to SCC/RCS/OCC, and PnC.

Magna Electronics, Holly, MI, Software Engineer:

Ultrasonic Rain Sensors, Dual KeyFob based on ZigBee Technologies. Park–Assist module to recognize vehicle's field of view "regions" and "zones" to incorporate an effective radio display to alert driver of any obstacles in the park zones. 

Visteon Corporation, Van Buren township, Dearborn, MI, Software Engineer:

Driver Information Systems: Software Developer for Instrument cluster, Cockpit Integrated Display (CID) integrating a central display that is used to communicate with the Audio Control Module (ACM), Electronic Climate Control, and infotainment system modules to vehicle occupants.

TRW Automotive, Farmignton Hills, MI, Software Engineer:

Active Safety Crash Sensors, GEN IV Airbag Restraint Systems
Teaching Interests
Computer Science and Electrical Engineering courses (courses taught):
Data Structures & Algorithms
Computational Intelligence Techniques
Deep Learning
Digital Image Processing & Computer Vision
Computer Networking & Computer Networking Lab
Computer Architecture & Network Security
Microprocessors/Microcontrollers & Microprocessors Lab
Embedded Systems & Embedded Systems Lab
Real Time Systems
Sensors & Actuators
Digital Electronics & Digital Electronics Lab
Microelectronics & Electronics Lab
Digital Control Systems
Principles of Electrical Engineering
Electric Machines
Security & Privacy in Cloud Computing
Embedded Systems Directed Study
Academic Workshops:
LTU-WSU BEST and Adjunct Pedagogy Workshop: Workshop is held in partnership with LTU and WSU, with the continued support of the NIH BEST Grant and the State of Michigan's KCP Future Faculty Fellows, main topics covered:
 Writing course objectives, assessment, and a wide range of active and collaborative learning techniques.
 Learning styles, course-based research experiences, flipping the classroom, slide design, and applications in writing-based courses. 
 Effectiveness of active learning, problem-based learning, metacognition, and participant presentations.
 Faculty Canvas (And More) Training Sessions: Workshop focused on features commonly used by faculty. The workshop sessions are:
 Course Building
 Assignments & Grading
 Communication and Collaboration
 Assessment features (analytics, outcomes)
Instructional Design Studio AR/VR Classroom Workshop: 
 Case studies and examples of best practices emerging from instructors all over the world.
 Several examples of how innovative instructors have used AR/VR in their own classrooms and how it can be incorporated into your own classroom in simple, easy-to-access ways. 
Courses taught by Dr. Raef Aidibi
Winter Term 2024 (future)
Fall Term 2023 (current)
Winter Term 2023
Fall Term 2022
Winter Term 2022
Fall Term 2021