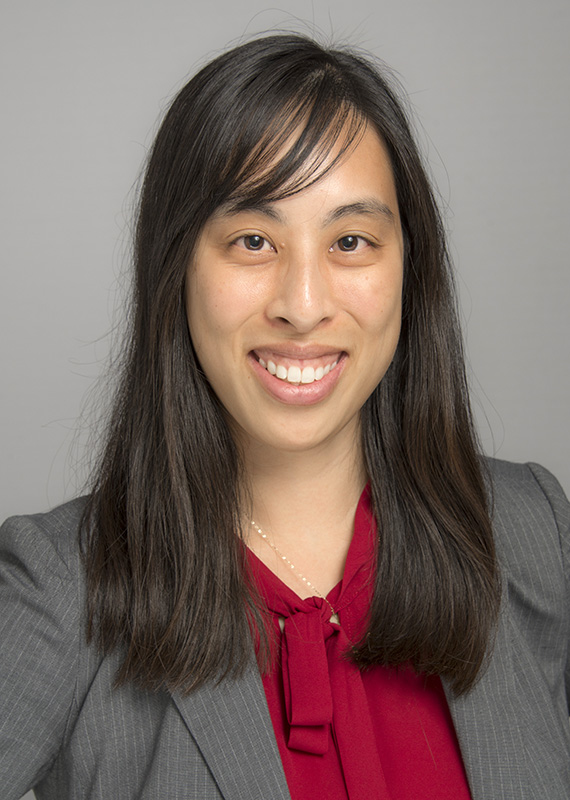 Mai Lam
Associate Professor, Biomedical Engineering
Contact
(313) 577-0118
818 W. Hancock Street, Detroit, MI
Associate Professor, Biomedical Engineering
Biography
Assistant Professor, Department of Biomedical Engineering, Wayne State University, Detroit, MI. 2013-Present
Assistant Professor, Cardiovascular Research Institute, School of Medicine, Wayne State University, Detroit, MI. 2014-2019
Postdoctoral Scholar, Cardiovascular Institute and the Stem Cell Institute for Regenerative Medicine, Stanford University, Stanford, CA. 2008-2013
Dr. Lam is an expert in cardiovascular tissue engineering and stem cell regenerative medicine. Her research focuses on tissue engineering of blood vessels and application of her engineered vessels towards patient-specific grafts and as disease models. She graduated with Honors from the University of Michigan and has received 2 Teaching Awards while at WSU. She coompleted postdoctoral training in two of the top labs at Stanford University under the direction of Drs. Joseph Wu (Cardiovascular/Stem Cells) and Michael Longaker (Stem Cells/Regenerative Medicine). The goal of her lab is to create a new and better option for a vascular graft to treat patients suffering from vascular disease, and to discover new treatment targets by creating tissue engineered disease models.
Research Interests
Tissue Engineering and Regenerative Medicine
Biomaterials Applications
Cardiac and Musculoskeletal Systems
Stem Cell Differentiation and Transplantation
Cellular and Tissue Biomechanics
Extracellular Matrix Interactions
Cell adhesion
Translational Studies 
Courses Taught
BME 4010 Physiology Laboratory
BME 5220 Cellular and Tissue Biomechanics
BME 5380 Biocompatibility
Publications
(Selected)
Wonski BT, Fisher B, Lam MT. Assessment of biocompatible hydrogels to augment mechanical structure in tissue engineered blood vessels. Bioengineering (Basel). 2023 Jun 30;10(7):780.
Patel B, Wonski BT, Saliganan DM, Rteil A, Kabbani LS, Lam MT. Decellularized dermis extracellular matrix alloderm mechanically strengthens biological engineered tunica adventitia-based blood vessels. Sci Rep. 2021 May 31;11(1):11384.
Patel B, Xu Z, Pinnock CB, Kabbani LS, Lam MT. Self-assembled Collagen-Fibrin Hydrogel Reinforces Tissue Engineered Adventitia Vessels Seeded with Human Fibroblasts. Sci Rep. 2018 Feb 19;8(1):3294.
Lam MT. Mesenchymal Stem Cell Therapies for Skin Repair and Regeneration. Journal of Dermatology & Cosmetology. J Dermat Cosmetol. 2017, 1(3): 00014.
Wang L, Meier E, Tian S, Lei I, Liu L, Xian S, Lam MT, Wang Z. Transplantation of Isl1+ cardiac progenitor cells in small intestinal submucosa improves infarcted heart function. Stem Cell Res Ther. 2017 Oct 16;8(1):230.
Pinnock CB, Xu Z, Lam MT. Scaling of Engineered Vascular Grafts using 3D Printed Guides and the Ring Stacking Method. J Vis Exp. (Invited). 2017 Mar 27;(121).
Pinnock CB, Meier EM, Joshi N, Wu B, Lam MT. Customizable Engineered Blood Vessels Using 3D Printed Inserts. Methods (Special issue-Invitation only). Guest editors: Anthony Atala & Hooman Sadri-Ardekani. 2016;15(99):20-7.
Xu Z and Lam MT, "Alginate Application for Heart and Cardiovascular Diseases," book chapter 14, in Springer Series in Biomaterials Science and Engineering. Volume: Alginates and their Biomedical Applications. Eds: BHA Rehm, F Moradali. Springer. 2016.
Meier EM and Lam MT. Role of mechanical stimulation in stem cell differentiation. JSM Biotechnol Bioeng. 2016, 3(3): 1060.
Meier EM, Wu B, Siddiqui A, Tepper DG, Longaker MT, Lam MT. Mechanical Stimulation Increases RNA-level Expression of Knee Meniscus Genes in Adipose-derived Stromal Cells. Plast Reconstr Surg GO. 2016 16;4(9):e864.
Awards and Honors
Global Learning Faculty Fellow, Wayne State University, 2023
Excellence in Teaching Award, College of Engineering, Wayne State University, 2018
Outstanding Faculty Award, College of Engineering, Wayne State University, 2015
Multi-Disciplinary Training Program in Cardiovascular Imaging at Stanford (CVIS) Postdoctoral Fellowship (T32), 2011
Summer Institute for Entrepreneurship Certificate, Graduate School of Business (GSB), Stanford University, 2011
Stanford GSB Summer Institute for Entrepreneurship Fellow Award for Exemplary Performance, 2011
Henzl-Gabor Young Women in Science Travel Fellowship, 2010
Kathleen McCormick Committee to Support Women in Medical Careers Postdoctoral Travel Grant, 2010
Ethelmae Haldan Grant for Innovative Science in Osteoarthritis, Arthritis National Research Foundation, 2009-2010
National Institute on Aging (NIA) Multidisciplinary Training in Aging Research Fellow, 2004-2006
Engineering Academic Scholar, College of Engineering, University of Michigan, 2006
Best Overall Poster Award, Annual Society of Women Engineers (SWE) Poster Competition, 2005
University Honors, 2001
Education
B.S.E. with Honors, Materials Science and Engineering, University of Michigan, Ann Arbor, MI
M.S.E., Biomedical Engineering, University of Michigan, Ann Arbor, MI
Ph.D., Biomedical Engineering, University of Michigan, Ann Arbor, MI
Laboratory Web Site
 Vascular Regeneration and Mechanics Lab
Courses taught by Mai Lam
Fall Term 2023 (current)
Winter Term 2023
Fall Term 2022
Winter Term 2022