History
The College of Engineering can be traced back to 1920 when Ernest Drake arrived at Detroit Junior College and began teaching the first engineering courses as part of the chemistry program.
In 1933, chemistry professors Arthur R. Carr and Ernest Drake founded the College of Engineering. Only offering undergraduate courses, the college began with four disciplines: chemical, electrical, mechanics and civil. Classes and offices were housed in the Old Main building and several old neighborhood residences. By 1937, the college had 632 full-time students and 24 faculty members. The total annual budget was $80,000, which went mostly to salaries.
Beginning in the 1950s, the college evolved from a school dedicated to teaching professional engineering practice to undergraduates, to a college that emphasized research and strong academic programs at both the undergraduate and graduate level.
For the next few decades the College of Engineering produced pioneering research in areas such as bioengineering and automotive research, all the while increasing and strengthening its academic mission.
From its inception nearly 90 years ago, the College of Engineering has blossomed into a key educational institution in Michigan, with more than 120 full-time faculty and 3,500 undergraduate and graduate students.
As rapid advances in the areas of science, technology and communications change the world, the college is strengthening its position to continue to provide support and leadership for the technology that will make our lives better. With standout interdisciplinary research in areas such as bioengineering, nanotechnology, and alternative energy technology, the college is poised to provide leadership in emerging growth areas that will shape our future. To accommodate its mission and these and other burgeoning growth areas, the college opened the $3 million Marvin I. Danto Engineering Development Center in 2009.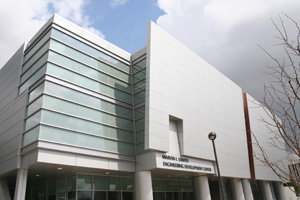 These state-of-the-art facilities, combined with cutting-edge research and strong academics, have allowed the college to become a key player in Michigan's transition from a manufacturing economy to a strong, effective and diversified high tech global marketplace. The interdisciplinary nature of our programs have also enabled our students to find the skills and experience attained at the college valuable for many different career paths, whether they are in engineering or not. The imagination, precision and problem-solving skills that make great engineers also prepare them for successful careers in fields such as law, investment banking, teaching and technical writing.
Past Deans
Arthur R. Carr 1933-56
J. Stuart Johnson 1957-67
Ali Cambel 1967-70
Stanley K. Stynes 1971-85
Fred Beaufait 1986-95
Chin Y. Kuo 1996-2001
Ralph Kummler 2004-09
Farshad Fotouhi 2011-22
Ali Abolmaali 2022-