<- Return to Hall of Fame
Raj Vattikuti - Hall of Fame (1995)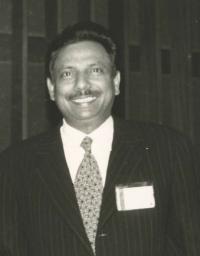 Electrical and Computer Engineering
Raj Vattikuti is founder, president and CEO of CSC India (formerly Covansys), an international systems integration consulting firm specializing in client/server, imaging and multimedia technologies. Since its establishment in 1985, the company has grown from 10 to more than 800 employees.
The company doubled its sales during each of its first five years, earning recognition in Inc. Magazine's listing of the nation's fastest growing companies for 1990 and 1991. The company's headquarters is in Farmington Hills and has offices throughout the U.S., as well as in London and Madras, India. In 1994, the company had sales of more than $57 million.
Raj received a master's degree in electrical and computer engineering from Wayne State in 1976. He also received a bachelor's degree in electronic engineering in 1974 from the University of Madras' Gandhi Engineering College.